The Camping Caños de Meca enjoys a privileged, an exceptional situation, in one of the last unspoilt and untouched areas of the andalusian coast.
The Camping is located in the western extreme of a beautiful Natural Park called "Parque Natural de la Breña y Marismas de Barbate" so combine excellent conditions for practising leisure activities such us: Trekking, mountainbike, horse riding, with a wonderful views from its cliffs (100 mt. above the sea level) and from its two watchtowers (used to protect the coast from the pirates attacks) the ?Torre del Tajo? (XVI c.) and the "Torre de Meca" (XIX c.)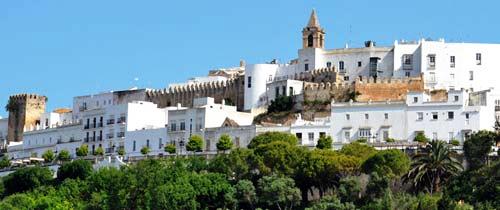 From the campsite, you can make interesting excursions to the Natural Park and to the near villages of Barbate, Conil and Vejer de la Frontera (this one a breathtakingly beautiful village set at the top of a hill, it is a perfect example of Arab/andalusian architecture, declared a Protected area of Historical/Artistic Interest).
Barbate a village of seafaring and fishing tradition, the local fishermen stills use the traditional "almadraba" method for tuna fishing. And in Conil the beauty of the mountain white villages is mixed with the charm of the fishing villages.
Other interesting places to visit from the camping are the villages of Zahara de los Atunes and Tarifa with the castle of Guzmán el Bueno, and the roman ruins of Baelo Claudia (Bolonia), as well as the rock of Gibraltar, or taking a ferry from Algeciras and visit the north-african towns of Ceuta and Tangier.
Do not forget to visit Jerez de la Frontera, the wine and equestrian capital and birthplace of flamenco music. With its wine cellars (Sherry), and The Royal Andalusian School of Equestrian Art with its unique show "How the Andalusian Horses Dance".
Cádiz, with 3.000 years of history, is the oldest city in Western Europe. A sea-faring town, it is full of light and has a unique personality. It also boasts interesting monuments such as its Cathedral, Museum of Fine Arts and Archeology, surrounding Walls, and its typical neighbourhoods with a prominent Andalusian character.
We would also recommend a visit to the Sierra de Cadiz, with its "White Villages" of terraced homes, surrounded by beautiful countryside. They include the beautiful Arcos de la Frontera, Grazalema, Ubrique (renowned for its leathergoods), El Bosque, Zahara de la Sierra, Setenil, Olvera, etc.
Share it with your friends!